The Jabra GN1200CC cord is the solution to the common problem of not being able to connect your headset and telephone.
This 79" universal smart headset connection cord with its eight-position slide adjustment lets you connect just about any headset to virtually any single or multiline phone. With no user manual needed, you just slide the eight-position adjustment switch until you hear a dial tone. Smart cord also includes a low-current microphone amplifier to provide perfect operation with phones that require extra signal gain, such as Cisco, Panasonic, Nortel and Avaya, plus many IP phones.

SPECIFICATIONS
Connectivity

Auto Pairing: No

This device does not support Auto Pairing

Usage: Desk phone

Works with traditional desk phones

Speakers

Frequency Response: Narrowband

Speakers with a narrowband frequency response are capable of producing sound in a range well suited for traditional analog phone lines

Digital Signal Processing: No

This device does not utilize DSP (Digital Signal Processing)

Microphone

Microphone Type: N/A

Information on the type of microphone (or microphones) that this device is equipped with is not available at this time

Microphone Sensitivity: N/A

The microphone sensitivity level is not available at this moment for this device

Mute function: No

There is no option to "mute/unmute" a conversation directly from the device

Remote Call Control

Control

Setup Display: No

There is not Setup Display on this device

Vibrator: Yes

Vibrator causes the device to vibrate when a new call comes in.
如
電
話
機
有headset jack (RJ9
插
頭
)
,
一般選配
GN1200
萬
用
線
(
smart cord) (RJ9
插頭)
(
約
$ 200)
已可連接大部份品牌的電話機,
可調教參數(1-9) 配合不同品牌的電話機
以下
除外
1.
Ayaya 1600/9600 series
,
須
選
配HIC/HIS
專
用
線,
2.
Panasonic
電
話
系
統
而
配
備2.5 mm headset jack
插
頭
的
電
話
機
,
須
選
配
專
用
的
2.5 mm
針
頭
連
接
​
How to set up your headset for your telephone with headset jack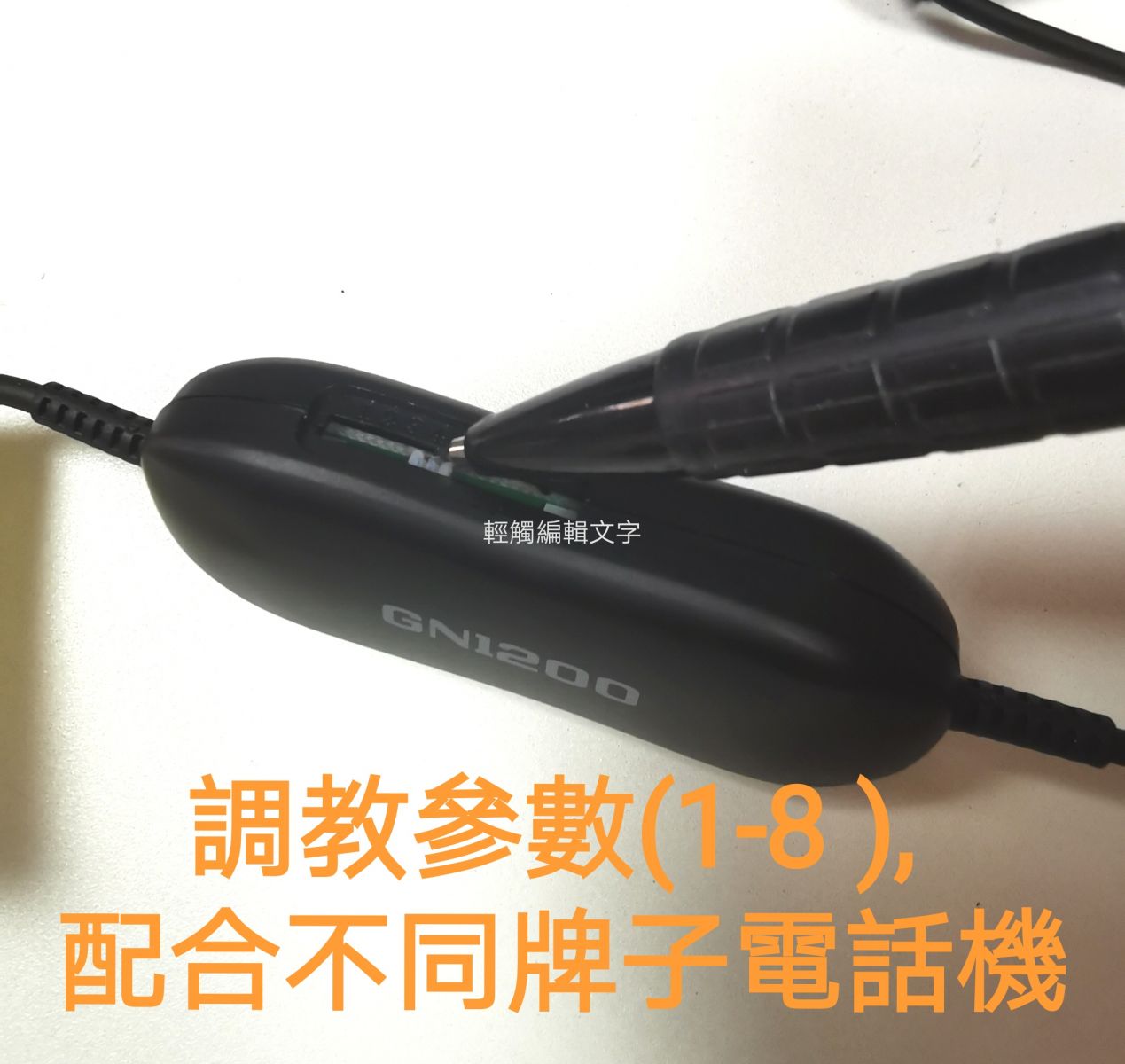 Slide the eight-position adjustment switch until you hear a dial tone. Smart cord also includes a low-current microphone amplifier to provide perfect operation with phones that require extra signal gain, such as Cisco, Panasonic, Nortel and Avaya, plus many IP phones. See below table for your reference
調教線上Smart cord 上的switch ,已達到最佳的效果,以下是部份形號供參考
Switch
Position
Used On telephone
model
Amplified
1
Most Standard Telephones
No
2
3
4
Japanese Phones
Panasonic SIP Ip phone
KH-HDV 130
No
5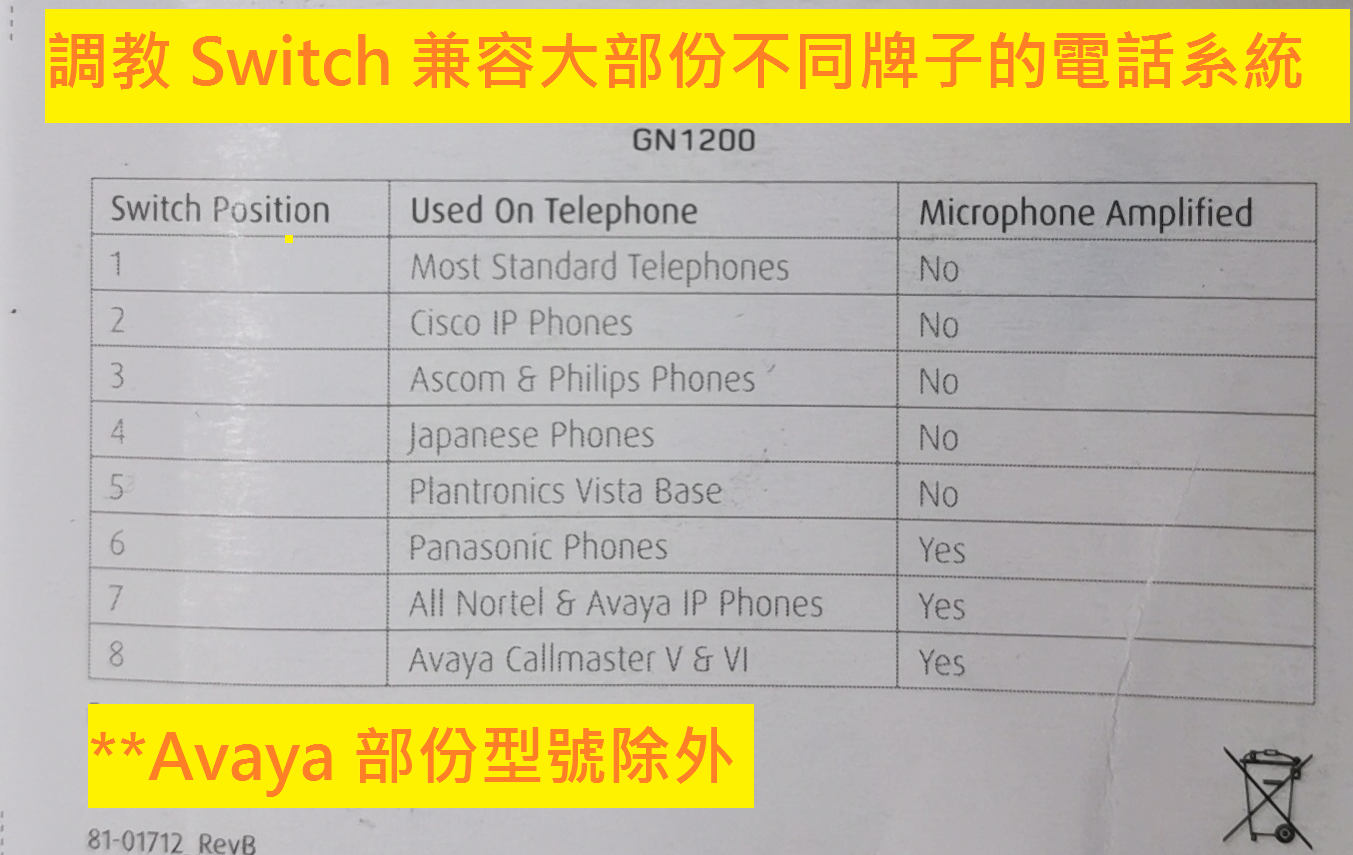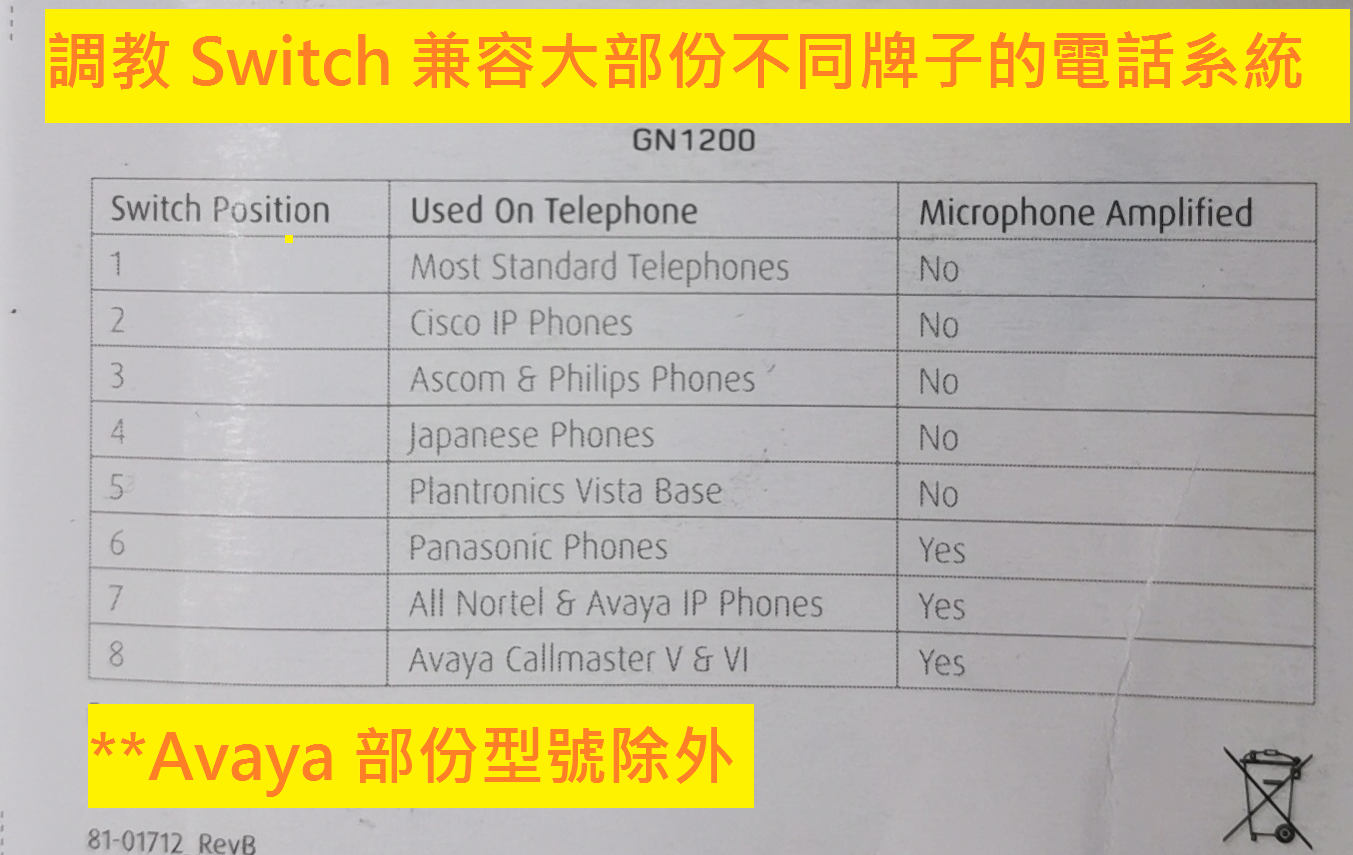 貨期: 熱賣產品,一般訂貨期需2-3天出貨,如供應商缺貨,會已電郵通知客戶。
運費: 商業區運費 $60、不包上門安裝和產品教授服務